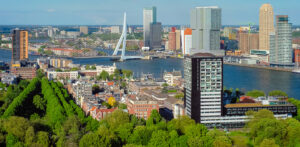 Official name: 'The Park' – situated along the Nieuwe Maas (diagonally across from the Cruise terminal) and not far from Westzeedijk (where De Kunsthal is located).
The second oldest park in Rotterdam
Long ago, this was an estate. In 1852, the municipality of Rotterdam decided to turn this onetime estate into a 'public walking area'. The Park still has many old trees, beautiful walkways, the Rhododendron Avenue as well as some café- restaurants with delightful terraces.
Jan David Zocher and his son Louis Paul Zocher designed The Park in 1852, using the principles of the English landscape park. In 1875, The Park was extended with an area of almost 30 hectares, by the addition of a second estate, De Heuvel (The Hill), which actually has a hill on which today the Parkheuvel restaurant (two Michelin stars) is located.
How to get there?
From the cruise terminal, walk along Erasmus Bridge, take the first left, going down, and left again to Willemskade (passing the Spido). At the end, turn right, passing Veerhaven. At the square (Westplein), turn left into Parklaan. The Park is at the end of this lane. Alternative: take a Watertaxi (at the stop near Hotel New York) to Veerhaven.