City archivist and Rotterdam City Archive director.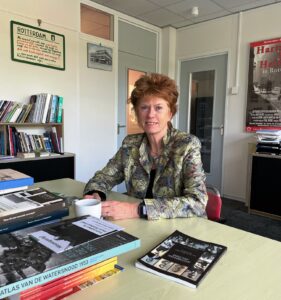 We speak with Mrs Jantje Steenhuis about old passenger lists of Holland America Line and about finding your roots. But first we ask her about the function of the City Archive and what it means for the citizens.
On the day before this interview, Jantje Steenhuis had given a presentation with respect to the 165th anniversary of the Rotterdam City Archive.'The City Archive owes its importance to being the municipality's memory.Anything of importance to the city's history is archived.
For the citizens, too, weare a source of information on family background for example, as well as on the rights and obligations of the people in our society. Although citizens have the right of inspection, not everything is public.
Confidential information, such as privacy-sensitive details, are only made public after a certain period of time has expired,' Jantje Steenhuis explains.
'Old passenger lists have been obtained as part of the Holland America Line
archive,' she adds. 'Every ship kept a log about the journey, the route and even
the weather. It also included details on the passengers. These are in great demand nowadays, for instance when people are interested in family that emigrated to America. This is why we have digitised the sources, so that details can be found more easily. In addition to details of the many people who sailed to America to build a new future, we also have details on businessmen, artists and musicians who went to America for business and performances, and in some cases stayed there. All these roots can be found in the City Archive,' says Jantje Steenhuis, the eighth city archivist since 1857.