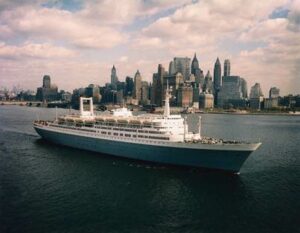 Holland America Line celebrating 150th anniversary in 2023 On 15 October 1872, an SS Rotterdam sailed from Rotterdam to New York for the first time along what was the brand-new Nieuwe Waterweg at the time.
It was to be the start of a regular service of many years between Rotterdam and New York. The celebration of the Nieuwe Waterweg's 150th anniversary this year will be followed by the 150th anniversary of Holland America Line, which will be celebrated next year. Originally named the Nederlandsch-Amerikaansche Stoomvaart Maatschappij (NASM, the Dutch-American Steamship Company) at its incorporation on 18 April 1873, the company soon became the Holland America Line (HAL). Rotterdam and HAL have maintained strong ties throughout the years, and HAL is in the DNA and close to the heart of Rotterdam.
Holland America Line is inextricably connected with the rich passenger shipping history of the port city of Rotterdam, a history of several generations during which many families migrated to and from different parts of the globe. In the process, HAL brought inspiration from the New World to Rotterdam and the Netherlands: new industriousness, different types of food, American cars, cocktails, clothing styles, dances and music. All of these have become integrated with our life here in Rotterdam – an additional reason to celebrate 150 years' HAL in Rotterdam in 2023.
(photo: Jan de Korte).*