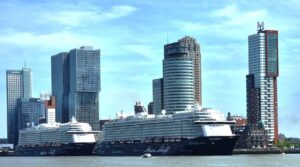 Cruise Port Rotterdam is pleased with the large number of cruise vessels at the quay – several vessels per week, sometimes even almost every day. The start this year was slow, but we did have a technical call from the brand-new expedition cruise vessel Seabourn Venture. We also welcomed AIDAprima on a regular basis, as well as AIDAcosma and the new MS Global Mercy.
In April, Mein Schiff 3, 4 and 6 put in, and two of them were at the quay at the same time. Later on, the magnificent MS Enchanted Princess, MSC Preziosa and MSC Virtuosa arrived, and in May HRH Princess Margriet christened MS Rotterdam VII at our quay. This flagship of Holland America Line is the third cruise vessel of HAL in the Pinnacle Class.
On 18 August, AIDAprima paid Rotterdam its one- hundredth visit! This year, after an absence of ten years, MS Queen Mary 2 returned to Rotterdam. Other vessels that honoured us with their presence included MS Queen Victoria, MS Britannia and MS Iona. All vessels were and will always be most welcome.
(Photo: Hans Verhoef)