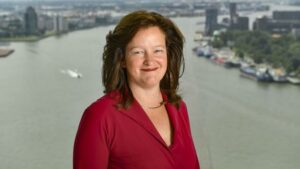 Vivienne de Leeuw, CFO Port of Rotterdam Authority: 'We need a solidfinancial position to keep on investing in infrastructure required for the energytransition in particular, as well as in traditional hardware, such as quay wallsand jetties. We also continue our investments in digitalisation.
By remaining aport with a world-class infrastructure, we ensure the port will continue to beattractive for businesses to invest in the transition.'
"Municipality of Rotterdam, port and Rotterdam companies invest in energytransition"
A large portfolio of energy transition projects has been created in the past fewyears. It is getting increasingly clear how abstract climate goals are translatedinto specific European and national policies and regulations and how this playsout for the related projects. Some major investment decisions include those fora large biorefinery and Europe's largest green hydrogen plant.
In addition, there are plans for a shore power project, extending an ammoniaimport terminal, increasing the capacity for battery recycling, and constructinga hydrogen refuelling station for trucks. All in all, an amount of €3 billion isinvolved, but these investments are sure to give the energy transition apromising start across the board. The Port of Rotterdam Authority is also set toaccelerate the reduction of the CO 2 emissions of its own organisation. In 2025,the CO 2 emission levels of 2019 should be reduced by 75%, and by 90% in 2030.The Port Authority's own vessels will make the full transition to biofuel in theshort term.