The Port of Rotterdam Authority, energy company Uniperand Shell are investing heavily in production facilities for green hydrogen atMaasvlakte in Rotterdam. Shell expects to open its first hydrogen plant here in2023. The Port of Rotterdam Authority and Uniper want a second hydrogenplant to be operational at Maasvlakte in 2024.The Port Authority expects completion of the infrastructure for bunkeringhydrogen by early next year.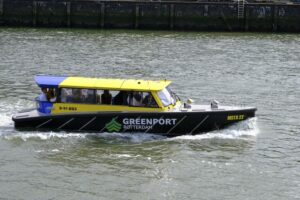 Watertaxi Rotterdam has added a hydrogen powered watertaxi (MSTX 22) toits fleet.
It is one of the first vessels in Europe's largest port to use thissustainable type of energy. Although Watertaxi Rotterdam, apart from theMSTX 22, already operates six electric vessels, hydrogen is generally consideredone of the most promising innovative applications to achieve zero carbonemissions. 'We have made zero carbon emissions a 2030 goal for our entirefleet,' says Daan van der Have of Watertaxi Rotterdam.