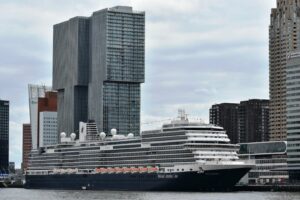 Mai Elmar: Dear Reader;
Yet another year is moving towards its closure and what a year it has been.
What do you say Nick?: 'Well after two years of hardship, Covid regulations and
lock down it has been a remarkable year of recovery, thanks to a resilient cruise
industry, vaccinations, boosters and strict hygiene and disinfect protocols we
are up and running again'. Indeed Nick: 'resilient and remarkable are most
certainly two important key words. Huge respect to all the cruise lines for their
fabulous relaunching of all their ships into operation again, a truly immense
task that deserves a huge compliment! I agree Mai: 'It is a gift to be allowed to work in this industry and to see that the trying times faced together have brought us even closer in collaboration, understanding and communication!'
On behalf of both Nick and me and our team, we thank you all for being our gift! We are proud to be part of this industry heading in to the future even stronger! Be it in service, accommodation, fabulous experiences or spear heading even more environmental measures to come.
Wishing you all a wonderful holiday season on board or on shore. Warmest seasonal greetings from all of us in Rotterdam.
Mai Nick
Mai Elmar
Nick Hoogeweij
Executive Director Executive Manager