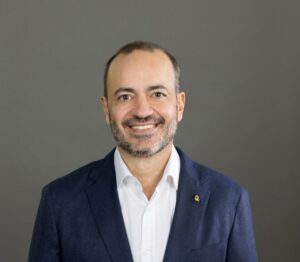 Super and superb that HAL will celebrate their 150th on 18th April in Rotterdam.
2023: 150 year anniversary, a big occasion!
An anniversary is important but few companies in the world can say they have been around 150 years. It's very special to be celebrating this anniversary and to be doing so with Rotterdam in Rotterdam – the namesake of our first ship in our founding city really brings it home and provides us with a stage to share how far we have come over the years and what our future holds in the premium cruise market.
I am so excited about what's ahead, because I believe wholeheartedly in the future of Holland America Line.
Our guests choose to sail with us because we are able to show them the world in a way that is authentic, while surrounding them in an environment of comfort, care, and service. And that will continue to be a hallmark of Holland America Line in the future – connecting people and cultures the world over.
The celebration of 150 years is about more than our history – it's about how we are building on the legacy of a great brand to make it relevant for the next 150 years. And I thank Rotterdam.
We make travel personal for our guests, and we've been doing it for nearly 150 years. And throughout our history, whether that guest was an immigrant … or a titan of industry … or a soldier … or a vacationer … or a refugee … each of them was treated as though they were a guest in our own home.
President Gus Antorcha of Holland America Line, Holland (Europe) & America in one brand, extraordinary Rotterdam VII was named in Rotterdam! A huge honor for Rotterdam how did HAL experience this?
Seven ships – including the newest version named last May – have carried the name Rotterdam, and we are proud to call this one our flagship. It is the ultimate expression of everything that makes us Holland America Line … and a love letter, if you will, to the place that has meant so much to us.
We have been honored over the decades to represent the city in our ships' namesakes, and we could not be more grateful for the way the city continues to preserve our history here, and to welcome each of our ships as though every arrival was a homecoming. The moment last spring was very heartwarming with Her Royal Highness Princess Margriet as godmother and several local dignitaries including Lord Mayor Aboutaleb on hand and addressing the audience. Naming a ship is the culmination of several years work in planning, construction and implementation. And we did this over the pandemic so it was quite moment to bring it all forward and name our flagship in the city of it's moniker – unbelievable!
President Antorcha once said "the heart of our company lies in Rotterdam" – might he elaborate?
The history of Holland America Line is inextricably linked with the city of Rotterdam, and so it is very emotional to travel to the city. After 150 years … with ships now traveling to every corner of the globe … staffed by team members representing dozens of different nationalities … we at Holland America Line still consider Rotterdam our spiritual home.
This is where it all started. Our former headquarters – a building that opened in 1901 – still stands just a short walk from where our ships dock. The cruise terminal to which we are connected is built on the same spot where Holland America Line ships also have docked for more than a century.
Over the decades, Holland America Line and Rotterdam's fortunes have risen … and fallen … and risen again, often in tandem. We have celebrated each other's successes and supported one another in tough times.
By example, I am particularly grateful for the support of Rotterdammers last year during the Volendam charter, funded by the Dutch government, for families fleeing the conflict in Ukraine. We welcomed these people on board … and you welcomed them into your city … providing a safe, supportive environment away from the chaos of war. We were proud to partner with you in that effort … another link in our shared history. And certainly not the last.
HAL has until this day roots in Rotterdam, e.g. the former head office (Hotel NY). How does Gus Antorcha see the close connection to Rotterdam, her port and citizens.
This is where it all started. The history of Holland America Line and the history of Rotterdam are inseparable, and it is why we have chosen the name Rotterdam to grace our flagships for more than half a century, including our very first ship and our newest ship – and the seventh named Rotterdam.
The warm welcome our ships and our team members receive every time we are here creates a feeling of joy we don't experience anywhere else in the world. So to Rotterdammers I say, thank you for giving us our start. And thank you for your continued support.
Is there anything we in Rotterdam can do to emphasize the importance of HAL even better? (currently working on how to permanently portraying HAL history on the pier)
The port has been incredibly supportive over the years and I have to mention how much we appreciate the passion of Mai Elmar in supporting our line and in sharing the joy of our successes. We welcome continued opportunities and developments to help tell our story. We certainly feel the anniversary ceremonies will help us do this. But the future exhibits and our future turns in Rotterdam will help us tell a shared history and help our guests to understand how welcoming the people of Rotterdam are and the wonderful opportunities and culture that can be experienced in this city.