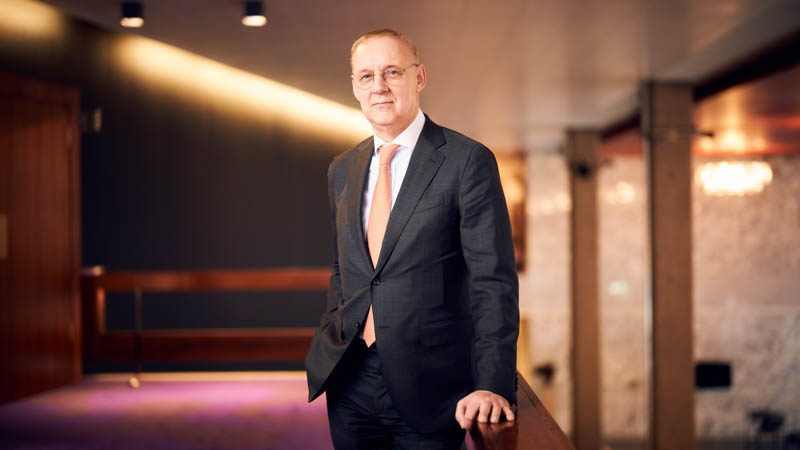 'We are a strong brand that's travelling the globe' The Rotterdam Philharmonic Orchestra stands out with the intense energy of its concerts, its acclaimed recordings and its innovative approach to audiences.
The orchestra, founded in 1918, earned itself a place among Europe's leading symphony orchestras.
Its ties with the city are very strong: many Rotterdam residents go to the concerts, often sold out at De Doelen
'Concert building De Doelen is the home base of the Rotterdam Philharmonic Orchestra.
A marvellous location!
With our international academy we invest in the future, and every year we organise many concerts for the Rotterdam children.
RPhO's ties with the city are also strong from an international perspective, not only because of our name but also because the orchestra is the international ambassador of the city and the port, a role we most gladly play.
The orchestra often performs at other locations too, ranging from Rotterdam stages to the most renowned halls in the Netherlands and abroad.'
The RPhO is world-famous now and performs all over the world. Quite recently in Asia, right? And it was founded 105 years ago!
'That's correct. This summer, the orchestra travelled to Asia on a tour of Taiwan, South Korea and Japan. This year, to celebrate the Rotterdam Philharmonic Orchestra's 105th anniversary, we invite the world's top conductors and soloists to come to Rotterdam for a sparkling concert season.
Five years ago, we entered the second century of our existence, a new beginning, with Lahav Shani as our new principal conductor, and Yannick Nézet- Séguin as our honorary conductor. The talent development initiatives are also new. We established an Orchestra Academy, and from the very start we have been a partner of the International Conducting Competition Rotterdam. Supertalent Tarmo Peltokoski was appointed our new regular guest conductor.'
Which other visits have been planned for this year?
'This summer, we perform at the concert hall of San Sebastián and at the festival in Santander. In October, we tour Slovakia and Austria, and we will do three concerts at the famous Musikverein in Vienna. In March 2024, we will tour the United States, with concerts in Carnegie Hall in New York, for instance.'
Foto: Eduardus Lee