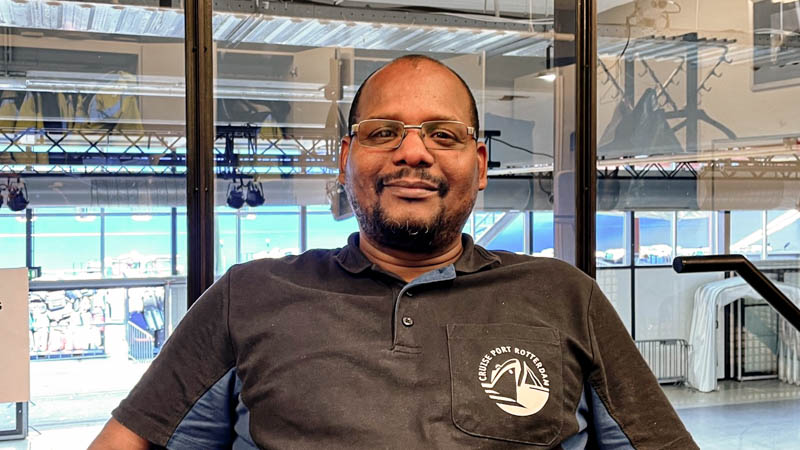 Head of Logistics & Facility Management Eric Bell commenced employment with Cruise Port Rotterdam in 2014 and later became the head of Logistics & Facility Management.  Eric is a healthy, active man who loves his job.
Tell us about your job.
'The logistics I work in is comprehensive and begins with preparing the terminal for the berthing process of the vessel in conformity with the shipping company's wishes. We bring our wide experience to bear in our aim at providing passengers, crew and officers with optimum service. The work consists of many tasks, varying from putting everything ready and realising logistic solutions to coordinating the trucks unloading provisions and of course buses.
In all of this, we always ensure that passengers can embark and disembark safely. Everything will have been arranged when the vessel calls in. The facility services primarily concern maintenance and repair. There are many things we can do ourselves and for those things we cannot do, we ask specialists to give us a hand.'
How do you experience your job?
'Never a dull moment! It's healthy work, and every day I feel invited to develop. With cruise it is never the same. Every day is different, you have to be well prepared and be able to deal with last minute changes. And that's fine with me, as I love this variation in my job,' Eric says with a big smile.
'You said it's a healthy job…?'
'Yes, it is. I am in the open air a lot and work also brings exercise. I am very grateful to director Mai Elmar for giving me this job opportunity. I feel I am a full member of the team, one in which I can be who I am. I love my job, every day again!'