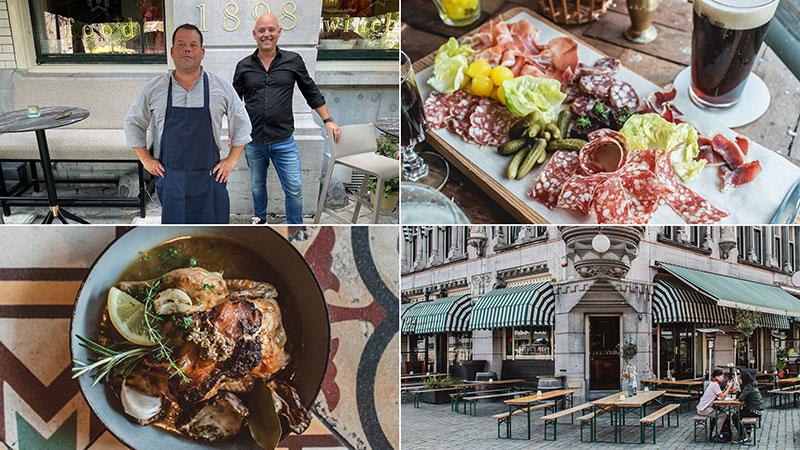 'Great!' is the enthusiastic opinion often heard when people talk about restaurant 1898 Foods & Drinks in the White House at Wijnhaven.
In 1898, this White House was Europe's first and tallest office building. Today, it is a historic monument. The main entrance to 1898 Foods & Drinks is not at Wijnhaven but around the corner, at the lovely square, with a spacious terrace.
And great it is: delicious dishes (from pork belly with French fries to oysters), great wines, excellent service and affordable. The price/quality ratio is spot-on. Owners Gerard and Thijs could not agree more. Gerard is the chef, whereas Thijs manages the guest area of the restaurant. The restaurant sits at a unique and quiet spot at the Old Harbor on the edge of the city centre.
Gerard and Thijs are happy they achieved 1898. Seventeen years ago, they started another restaurant in the vicinity of the White House, but then they heard there was a vacant space inside the White House. Three months of renovating, decorating and furnishing later, 1898 Foods & Drinks had a successful start.
Almost every evening (from Tuesday evening till Saturday evening) the restaurant is fully booked. It is also open for lunch, with the possibility of having it outside weather permitting. Visitors can simultaneously marvel at the White House itself, at the special architecture of the Cube Houses and the Old Port.
The restaurant is at 20 minutes' walk from Erasmus Bridge near Cruise Port Rotterdam. Address: Wijnhaven 3a. The main entrance is around the corner, at the square.
Reservations: telephone +31 (0)10-845 20 68.
Site: https://1898rotterdam.nl/